RADO Translations provide NAATI certified translations that are accepted in government and other official institutions across Australia and in the embassies of Ukraine and Russia. We offer tailor-made solutions for all your Ukrainian and Russian translating needs. We cater for individuals and for businesses and are focused on high quality language services,reasonable pricing and customer satisfaction.
RADO Translations deliver legal, medical, business and personal document translation and assist with apostilles and notarisation.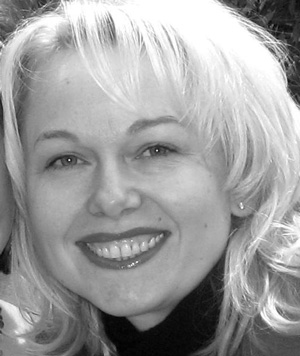 Olena Radievska is the founder and principal translator of RADO Translations.
She is a professional translator and linguist. Olena graduated from Kyiv National Taras Shevchenko University (Kyiv, Ukraine) in 1993. Olena is accredited by NAATI (Australia) at the Professional Level in both Ukrainian and Russian languages and is also a professional member of the Australian Institute of Interpreters and Translators.
Olena's experience includes working as a full-time translator for national Ukrainian newspapers, global pharmaceutical company Boehringer Ingelheim and for European Commission TASIC projects, which involved international consultancy firms, European banks, and governmental and parliamentary institutions.
Since 2005 Olena has been living and working in Melbourne, Australia, providing translation and language services to corporates, government and community organisations and individual clients.

"We must complement RADO Translations for their efficiency and professionalism. We have been very impressed by the ease with which they provided translator service to us and the excellent documentation provided.

We required a NAATI accredited Russian / Ukrainian / English translator to enable us to execute a Will of a person who died in Melbourne, Australia. The beneficiaries reside in Ukraine and Russia. In order to be able to distribute the gifts pursuant to the provisions of the will, we needed translations of Passports, Death certificates, Marriage certificates, Birth certificates, Bank account details, Bank documents confirming the account number belongs to the beneficiary.

Your translations were most efficient, professional, prompt and reasonably priced. The exchange of scanned documents by email was quick and efficient and the final hard copy well presented.

We would not hesitate to work with you again and also to recommend RADO Translations services to others."

Regina and Julius Wajntraub

The service provided by Olena was exceptional. The actual translation of our documents was very prompt and of high quality. Most importantly, she assigned to our documents helped guide us through the process of acquiring our first certified translation, and took the time to explain to us in laymen's terms the steps involved.

"I am a repeat customer. I would highly recommend Olena to everyone. Most professional and reliable translator. Olena is very knowledgeable and caring, and will always help with extra information and advice. The job is done quickly and translations are always presented to the highest standards."

"Extremely friendly and professional service. They're lovely over the phone and helped with some extra information we required.

Perfect translation of documentation."

"Olena's work with us involved translation of different types of documents, like certificates, diplomas, power of attorney material, letters and e-mails. Her clients are satisfied with her translation and we can testify that she does her job with diligence, accuracy and a professional attitude."

Rev Dcn Alexander Abramoff,

Russian Ethnic Representative Council of Victoria, Inc., Melbourne, Australia

"Olena was one of translators that I've contacted, she bid the price of all other agencies; completed translation from emailed copy in one day and post it to me the same day. Translation performed on professional level.

Thank you."

"Received, thanks very much for your great service"

"During the period of work in Boehringer Ingelheim Pharma GesmbH, Olena has achieved sound conceptual understanding of the medical material she dealt with. Her translations represent a high level of accuracy and adequacy.

I am confident in recommending Olena to you."

Dr Mykhailo Aristov,

M.D., Medical Director of Boehringer Ingelheim Pharma GesmbH Representation in Ukraine.

"As a translator/interpreter Olena carried out translation related to the implementation of two European Union TASIC projects, including translation of project reports, selling and tender documentation and financial documents, descriptive memoranda and presentation to potential investors.

Olena demonstrated an exceptional commitment, high discipline and communicability. Her work may be characterised by very high reliability, outstanding interpersonal skills and readiness to help."

Gunther Henning,

Vice President, Commerzbank.

"Olena was my language teacher. I needed a tutor with the highest skills and qualification of Ukrainian and Russian (and also English) languages. Besides language tuition, she made presentations on the political, economic, cultural, geographical and other situations of Ukraine. Since I arrived in Kyiv and started my work as the Deputy Head of Mission of the Embassy of Japan in Ukraine and Moldova, I realized how accurate and insightful her tuitions were."

Hiromi,

professional diplomat.

"Olena was professional in every sense and worked tirelessly during the seminar program interpreting presentations perfectly for all individual speakers and during bilateral discussions between members of the delegation and senior members of the Law School.

This comprised approximately five hours of solid interpreting which was an incredible task, but one that Olena undertook admirably.

She undertook considerable preparation within a very tight deadline to ensure she fully briefed about the program and was well-prepared for all eventualities in presentations and discussions."

Katya Harvey,

Marketing and Recruitment Manager, Monash University Law School, Melbourne, Australia

"Olena fulfilled her duties as interpreter to the highest standard and sustained command of the complexities of the English language over a prolonged and intensive schedule, notably working round the clock on election day with the observation team's responsibility at constituency level. Her task entailed simultaneous interpretation between international supervisors and public and private participants in the electoral process.

Olena was reliable, conscientious and enthusiastic in her tasks as interpreter and conducted her task with dignity, serenity and sound judgment."

Michael Wolfers,

Elections Observer to the Organisation for Security and Co-operation in Europe, Kyiv, Ukraine

"Olena was responsible for implementing the project [targeting the Russian speaking community]. She was also responsible for developing information resources in Russian and English as well as coordinating information session addressing a range of crime prevention issues.

In all my dealings with Olena I found her to be very professional and approachable.

Megan Lawler,

Project Officer, Community Crime Prevention Section, Attorney-General's Department, Canberra, Australia

"Olena was contracted by the International Consultants Centre to deliver a cultural briefing for an Australian professional and his family. The briefing was delivered with good preparation, insight and client focus and included input on Russian and Ukrainian language."